Last Days of Summer Soap: For your face, for your hands, for your underwear drawer.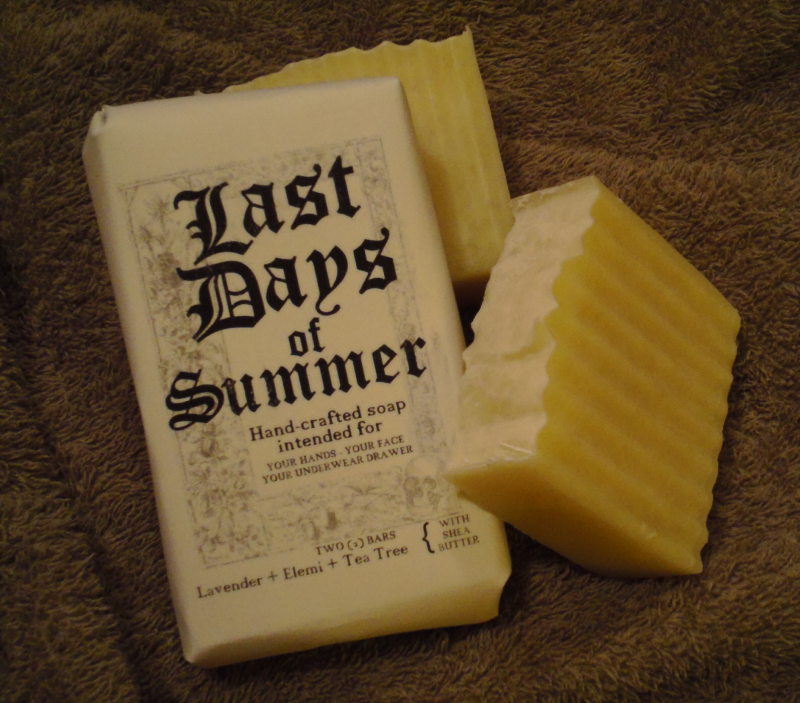 I taught myself how to make soap during that Weird Year of 2020, and was pleasantly-surprised to also learn that I'm pretty good at it! It was to the point that I made several different varieties, experimented with different types of base oils (never thought to use castor oil to make soap!), and explored various essential oils to create exotic, customized scents. The photo above shows the label I created, as well as the name of my "company," Last Days of Summer.
This is a hobby I hope to come back to sometime soon. I enjoyed the process, and was proud of the end product. I was able to create something new and interesting, and then share it with my friends and coworkers (with positive reviews all around!). I briefly considered creating a business out of it, but my priorities sent me elsewhere and I didn't "take the plunge." I still retain the skills, knowledge, and tools I picked up over the two years I'd made soap though, and as the future's unwritten I know I can come back to it when I have the time and energy for it.
I'm pleased with myself because it happened to be a positive outcome to Doing The Thing, as they say.
Learning how to do something new and different is a wonderful way to create. You feel smarter, stronger, and more capable after learning and practicing a new skill or hobby. When I eventually return to soap-making I'll feel just as confident and accomplished as I did when I had trays of soap curing in my apartment, surrounded by stacks of wrapped soap bars. Good times, definitely.